In Evidence

RINEM 2022
Premio
Gaetano Latmiral
(ex aequo)

Miglior lavoro scientifico presentato come poster da autori di età inferiore a 35 anni


F. NACCARATA
C. Occhiuzzi, R. Verzicco,
G. Marrocco

"
Embedded Antennas into Aortic Valve Bioprostheses for
RFID-based Wireless Monitoring"
get paper
IEEE
RFID-TA 2022

Best Student Paper
Award
F. NANNI,
L. Fiore, F. Arduini,
G. Marrocco


"
Flexible Epidermal Device for RFID-based Potentiometric Sensing of Skin Parameters"
get paper
SPLITECH 2022
Best Paper Award
F. LESTINI,
N. Panunzio, G. Marrocco,
C. Occhiuzzi
"
RFID Thermal Monitoring Sheet
(R-TMS) for Skin Temperature Measurements during Superficial Microwave Hyperthermia Treatment"
get paper
URSI
AT-AP-RASC 2022
Young Scientist Award
G. M. BIANCO,

G. Marrocco

"Indirect Propagation of Body-UAV LoRa Links over Wood and Suburb"
get paper
IEEE
RFID-TA 2021

Best Student Paper
Award
N. PANUNZIO,
G. Ligresti, M. Losardo,
D. Masi, A. Mostaccio,
F. Nanni, G. Tartaglia,
G. Marrocco


"
Cyber-Tooth: Antennified Dental Implant for RFID
Wireless Temperature Monitoring"
get paper
RINEM 2020
Premio
Gaetano Latmiral
Miglior lavoro
proposto da studenti
di dottorato di ricerca


S. NAPPI


"
RFID-based Stress
predictive engineering"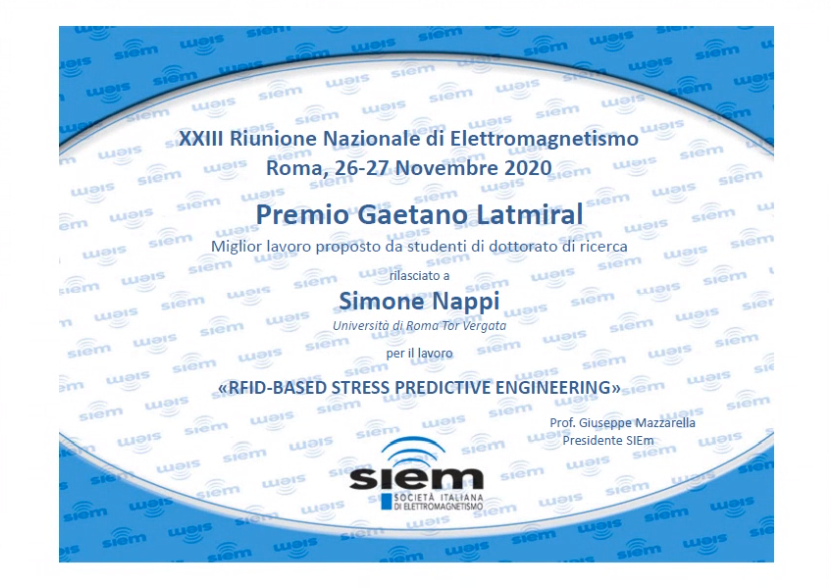 get paper
URSI GASS 2020
Young Scientist Award
F. CAMERA,
G. MARROCCO
with the paper


"
Electromagnetic
modeling and correction
of RFID Temperature
Sensors under Random
Wireless Interrogation"
get paper
SpiTech 2018

An interview on how bio-integrated and environmental wireless sensors may change our life (in croatian!).


online version
The positive synergy of the classic Electromagnetics with the Materials Science, Computer Science, Sensors, Medicine, Mechanics and Electronics originates the Pervasive Electromagnetics, a cross-discipline with the potentiality to provide the physical layer of the emerging Internet of Things that enables the Internet to get into the Real World of physical objects.Things equipped with electronic labels, having both identification and sensing capability, could be turned into digital entities readable from remote.
The Radiofrequency Identification (RFID) technology offers the natural substrate to achieve such features, provided that the basic physics governing the sensing and electromagnetic interaction phenomena is fully exploited.
Thanks to multidisciplinary research, the Pervasive Electromagnetics Lab aims to develop new radio devices for short-range sensing, ready to be seamlessly embedded into objects, products, buildings as well as over and even inside the human body with application to Personal Healthcare and Industry 4.0

RADIO

6ENSE
is the University spinoff of the Pervasive Electromagnetics Lab.







With the progressive increase in life expectancy, it is very likely that each of us, over the course of our existence, will have to resort to one or more biomedical prostheses to correct body defects due to aging, accidents, or congenital dysfunction. Conventional medical devices, spanning from dental implants, up to the much more complex orthopedic fixations, prostheses. and cardiac valves, that are used over the large scale in the great majority of medical practice, are entering in the era of Digital transformation too.



This research line is part of the international trend of transformation of conventional prostheses into cybernetic devices (Cyber Prostheses), able to combine the fundamental mechanical activity with the continuous generation and wireless communication of data. On these assumptions, in the near future, it will be possible to better understand our body and develop new digital personal monitoring services similar to those that are now enabled by smartwatches, and ultimately improve the quality of life in long run.








FLEXIBLE AND STRETCHABLE ELECTRONICS











The skin is the primary interface of the human body with the external environment. On its surface, a multitude of data describing the state of health of an individual can be collected by means of bio-integrated wireless-sensing epidermal membranes, acting as a second skin over the body.
These "skin-like" membranes are becoming more and more ultra-thin, low profile, lightweight, flexible, and stretchable so that they can conformally laminate onto the surface of the skin by soft contact, in a manner that they are mechanically invisible to the user. The electronic complexity of these devices is very low since all the electronics, sensors, and communication components should be thigthly integrated within the membrane, but still their sensing capabilities are striking (e.g., temperature, hydration, pH, electrolytes, etc).





MAN TO UAV COMMUNICATION AND OFF-BODY LINKS







The combined use of Unmanned Aerial Vehicles (UAV) and Radiofrequency Identification (RFID) devices is an emerging topic of the environmental monitoring.
We are studying two possible topologies of RFIDrones: the Reader-Drone hosting an RFID reader and interacting with fixed sensors displaced over an infrastructure and the Tag-Drone where a sensor-RFID tag is equipped with flight capability and interacts with a fixed base station for data exchange and assisted localization.








Body-worn radios exploiting the LPWAN LoRa protocol can cover kilometric ranges and generate stable off-body links even in the harshest environments. This new generation of radios can enable body-centric Unmanned Aerial Systems (UASs) but faces two challenges:
I) the design of wearable or epidermal antennas;
II) the characterization of off-body links.



The applications envisaged for this new generation of on-body radios range from emergency communications through UAVs to long-range telemonitoring of health parameters even in unconnected areas as mountain canyons or snowy plains.


















Food poisoning disproportionately affects the society, especially the youngest individuals. Nevertheless, resources wastage threats world population as well.



Actually, the proposed advanced technologies for food monitoring are hindered by the need of complex architectures or human involvement. Wireless monitoring, instead, exploits simple and low cost components to transduce physical stimuli, such as bacteria growth, into electrical signals. These, combined with algorithms of machine learning, have been yet demonstrated to be helpful both in preventing spoilage and food waste.


MONITORING OF RESPIRATORY FUNCTION









The monitoring of the respiratory function has already profited from the operation of temperature sensors put close to the airways as well as from the sensorization of facemasks, widely used in case of respiratory viruses. Abnormal breathing can be a symptom of an unhealthy status. For example, one of the most common symptoms of respiratory pandemics, like COVID-19, is cough. Its monitoring is useful to trace the progress of the disease and to evaluate its severity.
Conventional diagnostic exams involve cumbersome and intrusive instrumentation that are overall uncomfortable for the users. Instead, wearable and wireless technologies such as the Radio Frequency Identification (RFID) could allow the implementation of platforms able to monitor patients remotely.







RFID NETWORKS AND MULTI-CHIP SYSTEMS









Very recently some experiments put into evidence the possibility to set up a tag to tag communication by exploiting the electromagnetic coupling mechanism among antennas. Theoretical and experimental investigations are under development to understand how fabricate grids of interacting RFID tags according to the paradigm of ubiquitous computing.





read more
E-CROME (Lazio Innova - Gruppi di Ricerca 2020)






Biosensori su carta wireless per la telemedicina in oncologia e la misura di emocromo ed elettroliti

Progetto realizzato con il contributo della Regione Lazio.
POR FESR Lazio 2014-2020.
Avviso Pubblico "Progetti di Gruppi di Ricerca 2020".


SECOND SKIN ( Lazio Innova - Gruppi di Ricerca 2018-20)







BioIntegrated Wireless Sensors for the Epidermal Monitoring and Reactivation of Sensorial Injuries

A project funded by Lazio Innova under grant
"Progetto di Gruppo di Ricerca finanziato ai sensi della L.R. Lazio 13/08"


RADIOSKIN (Consolidate the Foundations 2015-17)
| | |
| --- | --- |
| | Skin-mounted electronics is the new frontier for unobtrusive body-centric monitoring systems. It enables to move the electronics and sensors from clothes and personal accessories directly to the human skin for the wireless and continuous assessment of people's health and well-being. |









CYBER AND PHYSICAL VULNERABILITIES OF MEDICAL DEVICES - OBSERVATORY





The collaboration will focus on the evaluation, feasibility, and subsequently the testing, and finally the operatin of an Information Sharing Platform capable of enabling the sharing of structured information specifically for cyber and physical threats in the medical sector. In the future, this platform could be configured as a service for companies involved in the technological development, certification, maintenance, and marketing of DM. They will thus be able to access information on the possible vulnerabilities of the relevant MDs and will then be able to adopt 'Security By Design' strategies for new devices and implement mitigation techniques for devices already on the market.



Scientific Advisor:
Prof. G. Marrocco


Pervasive Electromagnetic Lab:


F. Lestini
F. Nanni



Collab.
Prof. P. Loreti
Prof. G. Bianchi
PhD Student E. Raso







The course provides the electromagnetic basis for the current and next generation wireless services including radio and video broadcasting, radar tracking, mobile and personal communications, networks of wireless sensors, wireless charging, radiofrequency identification and satellite links. Starting from the elementary concepts of radiation from basic antennas, the course introduces the theory, the computer modeling and the preliminary design methodologies of several classes of radiating systems such as dipoles, loops, patches, array, apertures and reflectors. The lessons will moreover present many applications to multimedia systems, smartphones and electronic contact-less payments with a particular focus to the emerging Internet of Things.
As a complement to the theory, the students will the opportunity to extensively train with an industrial computer tool for the automatic modeling and design of radiating devices.

Prof. G. Marrocco
Il corso introduce la descrizione, il design, le tecnologie di produzione e di test di dispositivi wireless indossabili (sistemi wearable) per l'identificazione e la telemetria del corpo umano in ambiente reale. Il corso introduce anche la possibile vulnerabilità di tale collegamento di comunicazione del corpo e le sue conseguenze per la sicurezza e la privacy Il corso è in parte orientato alla progettazione / laboratorio e offre agli studenti l'opportunità di essere coinvolti in un progetto di design realistico riguardante un sistema wearable wireless per applicazioni di rilevamento elettromagnetico. L'attività di progettazione si basa sull'utilizzo di CAD elettromagnetici industriali e porterà alla realizzazione e sperimentazione di prototipi funzionanti mediante strumenti di prototipizzazione rapida e test con stazioni di misura professionali.

Prof. G. Marrocco
Il corso si propone di fornire allo studente i principi di base e i modelli che descrivono l'interazione dei campi elettromagnetici con il corpo umano, nonché le tecnologie e gli strumenti biomedicali adottati per la diagnosi e la terapia. Particolare attenzione sarà inoltre rivolta alla compatibilità elettromagnetica, volta alla sicurezza individuale ed alla certificazione dei dispositivi. Il corso avrà una forte connotazione medica: ogni argomento trattato avrà origine e fine nell'applicazione al corpo umano (diagnosi, terapia). Seminari e incontri con esperti del mondo industriale arricchiranno l'offerta formativa.

Prof.ssa C. Occhiuzzi
| | |
| --- | --- |
| Identificazione e Localizzazione | |
Il corso ha l'obiettivo di far conoscere le principali tecniche di localizzazione e identificazione a RF utilizzate ormai in tutti i campi delle telecomunicazione e dell''ingegneria, così come in tutte le applicazioni Internet of Things. Il corso, dopo una fase introduttiva, prevede attività tecnico pratiche per approfondire le tematiche di identificazione e localizzazione.


Prof. M. Leonardi, Prof. G. Marrocco, Ph.D. S. Amendola, Ph.D. G. M. Bianco
This course aims to provide the basic principles and models for the representation of electromagnetic transmission and propagation phenomena up to the description of the most common classes of guiding/radiating elements and of the entire wireless communication link.

Prof.ssa C. Occhiuzzi
---
In Evidence

The last meters of Internet of Things
web site

Team A

Team B


Progetto di Fine Corso



'Sistemi Wearable e Telemetria Medica'
a.a. 2021/22

video

Cyber Prosthesis: How RFID will Turn Bulk Implants into Data Generators for the Healthcare 4.0

Prof. G. Marrocco

more info
Press


Events
SECOND SKIN Day
March 26, 2019
Tor Vergata University
more info
Meet us at
Maker Faire
6th Edition
Rome, 12-14 October
more info
Wearable and Flexible Antennas
our chapter in the new book
One Thing at Time..

---
---