In Evidence

IEEE
RFID-TA 2021

Best Student Paper
Award
N. PANUNZIO,
G. Ligresti, M. Losardo,
D. Masi, A. Mostaccio,
F. Nanni, G. Tartaglia,
G. Marrocco

"
Cyber-Tooth: Antennified Dental Implant for RFID
Wireless Temperature Monitoring"
get paper
RINEM 2020
Premio
Gaetano Latmiral
Miglior lavoro
proposto da studenti
di dottorato di ricerca


S. NAPPI

"
RFID-based Stress
predictive engineering"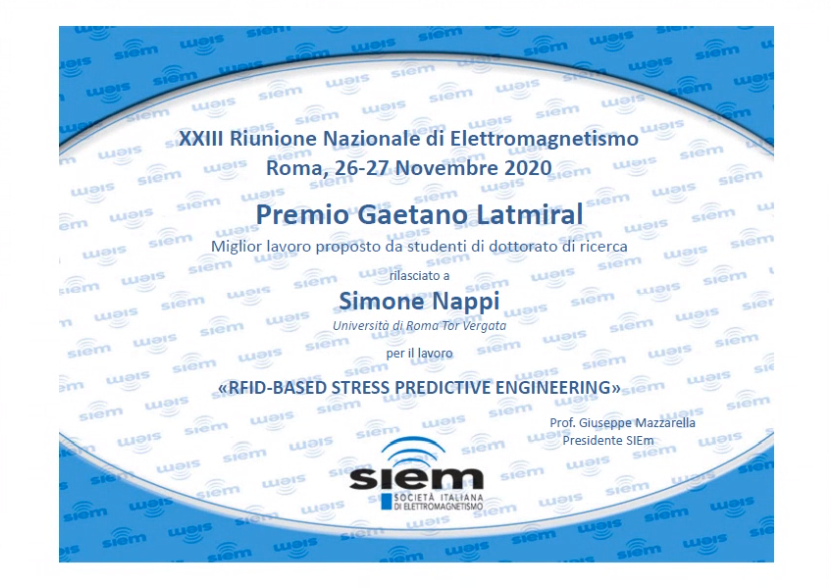 get paper
IEEE RFID 2020
Keynote Speech
C. OCCHIUZZI
"
RFID in the Industrial
IoT Era: a theoretical
and empirical overview
on how Sensing Tags
can improve Factories,
Work and Goods"
hear the speech
URSI GASS 2020
Young Scientist Award
F. CAMERA,
G. MARROCCO
with the paper

"
Electromagnetic
modeling and correction
of RFID Temperature
Sensors under Random
Wireless Interrogation"
get paper
URSI GASS 2020
Young Scientist Award
G. M. BIANCO,
S. AMENDOLA,
G. MARROCCO
with the paper

"
Near-field modeling of Self-tuning Antennas for the Tactile Internet"
get paper
BSN 2019
3rd Prize as
Best Paper


F. AMATO, S. AMENDOLA, G. MARROCCO with the paper
"
Upper-bound Performances of RFID Epidermal Sensor Networks at 5G Frequencies"
get paper
RINEM 2018
best paper CNIT Award

Carolina MIOZZI with the paper " An Epidermal Configurable Antenna System for the Monitoring of Biophysical Parameters"

get paper
SpiTech 2018

An interview on how bio-integrated and environmental wireless sensors may change our life (in croatian !).


online version
Best Paper
Award
8th Annual IEEE International Conference on RFID Technology and Applications
Warsaw, Poland, 20-22 September 2017
get paper
Best Paper
Award Finalist
11th IEEE International Conference on
RFID 2017

Phoenix, Az

9-11 May 2017
get paper
Best Oral Presentation Award
Body Sensor Networks 2017

Eindhoven
(The Netherlands)

9-12 May 2017
get paper
Best Student Paper Award
11th European Conference on
Antennas and Propagation
Paris (France)

19-24 March 2017
get paper
Talk with
your limbs !
get paper
The positive synergy of the classic Electromagnetics with the Materials Science, Computer Science, Sensors, Medicine, Mechanics and Electronics originates the Pervasive Electromagnetics, a cross-discipline with the potentiality to provide the physical layer of the emerging Internet of Things that enables the Internet to get into the Real World of physical objects.Things equipped with electronic labels, having both identification and sensing capability, could be turned into digital entities readable from remote.
The Radiofrequency Identification (RFID) technology offers the natural substrate to achieve such features, provided that the basic physics governing the sensing and electromagnetic interaction phenomena is fully exploited.
Thanks to multidisciplinary research, the Pervasive Electromagnetics Lab aims to develop new radio devices for short-range sensing, ready to be seamlessly embedded into objects, products, buildings as well as over and even inside the human body with application to Personal Healthcare and Industry 4.0

RADIO

6ENSE
is the University spinoff of the Pervasive Electromagnetics Lab.
E-CROME (Lazio Innova - Gruppi di Ricerca 2020)






Biosensori su carta wireless per la telemedicina in oncologia e la misura di emocromo ed elettroliti

Progetto realizzato con il contributo della Regione Lazio.
POR FESR Lazio 2014-2020.
Avviso Pubblico "Progetti di Gruppi di Ricerca 2020".


SECOND SKIN ( Lazio Innova - Gruppi di Ricerca 2018-20)







BioIntegrated Wireless Sensors for the Epidermal Monitoring and Reactivation of Sensorial Injuries

A project funded by Lazio Innova under grant
"Progetto di Gruppo di Ricerca finanziato ai sensi della L.R. Lazio 13/08"


RADIOSKIN (Consolidate the Foundations 2015-17)
| | |
| --- | --- |
| | Skin-mounted electronics is the new frontier for unobtrusive body-centric monitoring systems. It enables to move the electronics and sensors from clothes and personal accessories directly to the human skin for the wireless and continuous assessment of people's health and well-being. |
---
RFIDrone:UAVs with RFID technologies
| | |
| --- | --- |
| | The combined use of Unmanned Aerial Vehicles (UAV) and Radiofrequency Identification (RFID) devices is an emerging topic of the environmental monitoring. We are studying two possible topologies of RFIDrones: the Reader-Drone hosting an RFID reader and interacting with fixed sensors displaced over an infrastructure and the Tag-Drone where a sensor-RFID tag is equipped with flight capability and interacts with a fixed base station for data exchange and assisted localization. |
---
Wearable, Epidermal and Implantable radio-sensors





This research is expected to produce one of the key technologies to enable the

personal E-Health

of tomorrow, wherein the person, through his own smartphone, will become the primary hub of data collection about his own body.
---
Short-range passive sensing of chemical-physical parameters
| | |
| --- | --- |
| | We are making progress in the development of chemical-loaded antennas embedding carbon nanotubes and conductive polymers with the aim to remotely detect the presence and the amount of some gas such as ammonia, humidity and ethanol.s |
---
Embedded radio-sensors for structural deformations






Thanks to a collaboration with Civil Engineering researchers we are developing strain-gauge like RFID tags useful to be embedded into or over concrete walls, pillars or a around a crack to remotely sense the

Health of a Structure

. Electromagnetic effort is oriented to govern and shape the antenna backscattering in presence of time-dependent boundary conditions.



---
RFID Networks and Multi-chip systems






Very recently some experiments put into evidence the possibility to set up a tag to tag communication by exploiting the electromagnetic coupling mechanism among antennas. Theoretical and experimental investigations are under development to understand how fabricate grids of interacting RFID tags according to the paradigm of

ubiquitous computing

.



---
Distributed antenna system over naval and satellite platforms
| | |
| --- | --- |
| | The concept of distributed antennas is also being applied to the new paradigm of Satellite communication systems. In collaboration with the European Space Agency we are developing simple-shape plug and play antennas provided with tuning capability and suited to be allocated into clusters of any configuration to produce omnidirectional as well directive and tracking patterns. |
---
Meet us at
Maker Faire
6th Edition
Rome, 12-14 October
more info
Tag-Copter
Merging Nano-UAV with Radiofrequency Identification
---
One Thing at Time..

---
See and Ear Waves

Sensing the World by RFID